Head Teacher
WELCOME
On behalf of the staff, pupils, parents and governors, I would like to welcome you Little Hoole Primary School. We pride ourselves on our welcome and we hope that you will soon feel part of our friendly and caring school.
Situated just south of Preston and serving the local area of Walmer Bridge, Little Hoole and Much Hoole, we are very proud of our school and of the close links established within our local community over the years. Generations of children have left Little Hoole Primary with a love of learning and are well prepared for high school. Both academic and personal success is valued and this is shown in our drive to let children shine in all areas of the curriculum and the activities they do beyond school.
We have an excellent, hardworking, caring and dedicated staff whose core beliefs centre on providing a happy, safe, secure and supportive learning environment where children work hard and behave well so that they may achieve academic and personal excellence.
Our parents are very supportive, helping us with many activities within school. They accompany our trips and our PTA raise much needed funds so that we can continue to deliver the very best that your child needs.
We hope you enjoy looking at our new website. We are constantly updating it and developing it further. We hope that it gives you a good picture of what our school is like, however nothing beats the face to face approach so if you would like to see us please don't hesitate to contact us and arrange a meeting.
Many thanks
Daniel Stammers
Headteacher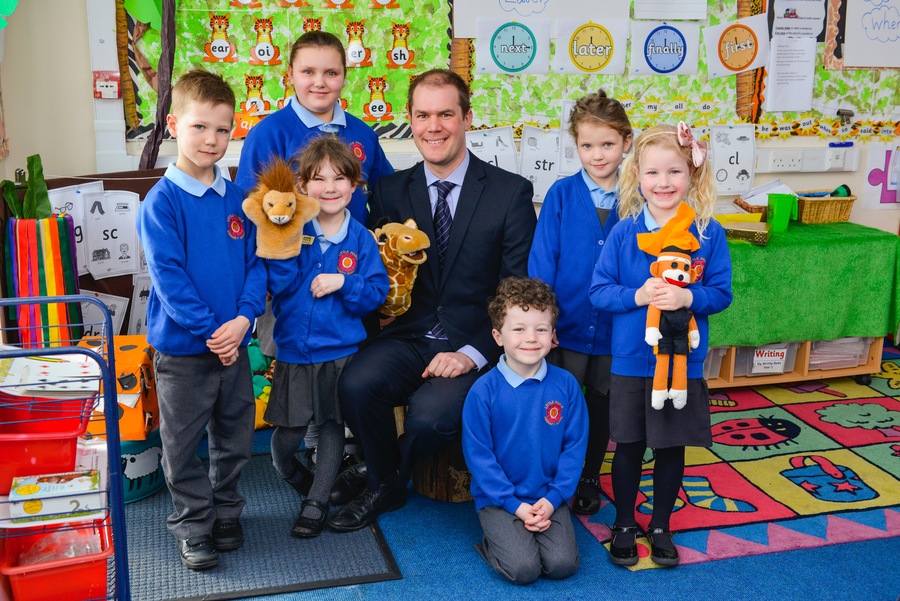 HT Blog 2017/18
admin on: HT Blog 2017/18
A first term over for our Reception children and just two more terms left for our Year 6 children. It's been a busy term but hopefully one that the children have enjoyed and learnt much from. This week and last week have been particularly enjoyable watching performances from our Yr 1 & 2 children and our Reception children in their Nativities. It still amazes me how confidently the children deliver their lines and sing their hearts out. I was particularly taken this year by how relaxed the children all looked and I am grateful to all the staff who prepared the children so well, and to all our parents for supporting us too.
Yr 2 led a wonderfully poignant Remembrance Assembly in November, where they shared what they were good at remembering and not so good at remembering. We also welcomed Mr. Turner from the Royal British Legion to the school who shared with us his own memories of the Second World War. This was the second class led assembly this year after Yr 3 and 4 led Harvest for us in September.
Yr 4, 5 and 6 have all been working beyond the classroom with trips to PCP for a lego day, an Anglo Saxon day at Martin Mere and a trip to Manchester Museum to learn more about dinosaurs for Yr 6. Yr 2 took a tour round the village as part of their work on Katie Morag and Yr 3 wrote letters to the Village Teapot and managed to grab a drink and some cake for their troubles too! You can see their letters on the Village Teapot Facebook page. Yr 3 also welcomed Mr. Partington from OzoneFit for the morning to help them with their healthy minds and bodies work. He was such a task master he even made the staff join in too!
We've had some success and some enjoyable events on the sporting front too. Our Gunners and Athletic football teams endured a frustrating start to their season with many weeks being rained off, but that didn't stop both teams from getting some victories and some valuable points on the league table. The Gunners are officially unbeaten in the Hutton league. The Gunners also took part in a football tournament at Priory where they finished 4th overall. Children from Years 1 and 2 took part in multi skills sports event at Priory and had a very enjoyable time and our Yr 5 and 6 Athletics team finished 3rd in the Schools' Sportshall Athletics competition. This is an improvement from 4th last year and we will once again take part in the area finals in January. Our High 5s team has been well drilled and well trained by Mrs. Moris, Miss. Houghton and Mrs. Twist but haven't been able to put their training into a game yet due to a change in the structure of the league.
Our PTA have once again supported us very well this term running a very successful Christmas Light Switch on event which included selling tickets for the famous 'Coloured Hampers' which the classes prepare. I'm not sure on a final figure for the term, but it's not always about the money the PTA's work is also very helpful for providing us with opportunities to meet together as a community and my sincere thanks goes to everyone who is able to help out and take part in these events. We hope now our heating upgrade is almost at completion to hold our annual Valentine's disco in February.
The introduction of our Little Hoole App appears to be going down well with 170 people having downloaded it so far. We aim to post more news items more often in a bid to improve communication even further. You can also see photo galleries and check the calendar for dates and events. If you haven't downloaded it yet do so today.
The next two terms see some slight changes. I will be helping out Kingsfold during the Spring and Summer whilst they find a new permanent Headteacher and Mr. Chapman will be taking charge at Little Hoole. We have so many trips, visitors and events to come, including the Yr 5 and 6 residential trip to York.
I would like to thank all the staff and Governors at Little Hoole for their hard work and dedication, all the parents, grandparents, relatives and friends of the children for supporting us with what we do, and last but certainly not least all of the children who make coming to work such a joy. Have a peaceful and enjoyable Christmas and we will see you in 2018!
---
admin on: HT Blog 2017/18
New children, a mile a day, lego houses, an Anglo Saxon experience, some workmen and two fire engines! These are all things that have shaped our first half term in school. It's been a wonderful start to the new school year, we're already seeing some super work, lots of effort and everyone seems to be getting down and getting stuck in.
Our new Reception children didn't take too long to settle in to the routines of our school. They've been joining the rest of the school in assemblies, and are enjoying working hard in the lessons and playing with their Big friends at playtime. Year 4 met up with their friends at Penwortham Primary for a Lego building morning as part of their 'Sparks Might Fly' topic and ended up lighting up their newly built city. Year 5 travelled back in time on their way to Martin Mere and discovered an Anglo Saxon village and some very unusual looking people who taught them how to build their houses, weave and whittle.
We're delighted to have welcomed Mr. Paul Cookson, friend, former pupil....oh and amazing poet and creative writing motivator back to our school this term. He re-wrote one of his poems with one of our classes and they performed it to me on my special birthday! Sadly for me it also involved a costume of the Elvis variety. I much preferred the poem!
Year 6 have already completed their Bikeability course and have now learnt how to ride on our local roads safely. It's up to them now keep it up. We're hoping that Year 5 children will get the chance to do this too before the end of the year.
Years 3 and 4 put on a wonderful Harvest assembly for us all. There are so many excellent performers in these classes - and some very funny ones too! We collected lots of food items which have now been taken to the local food banks and we've spent time thinking about others through some of our assembly themes this term.
Our sporting year has started well too. We had lots of children keen to join our football, High 5s netball and multi skills clubs. Our footballers have started really well in their league, the Gunners winning all four of their matches so far and Athletic winning two out of their four. A huge improvement on last year as Athletic struggled to win any games last year! Our High 5ers have to wait a bit longer for their first opportunity to represent the school but the squad working with Mrs. Twist and Miss. Houghton are coming along nicely and we are sure they will have a great year. My thanks to Mrs. Twist, Miss Houghton, Mrs. Morris and Ray and his team for running these clubs so well.
Our new footpath is being well used with lots of budding runners developing nicely. Paid for using PTA money and Sports Premium money, most classes are getting out each day for their extra exercise and wellbeing. It's been good for the staff too some of whom have been out for a sneaky run at lunchtimes too!
All of these events and activities have been happening despite their being a bit of upheaval in the school. As you know we are having some work done to improve our heating system. Despite an impromptu visit from two fire engines to extinguish a fire in a generator, the work is going well, most of which is happening in the evenings and is due for completion in December.
So what's next? Well, we're looking forward to a thoughtful Remembrance assembly from Yr 2 in November. Our infants will be working on and performing their Nativities this Christmas. We've got fitness days, more days out, more visitors in and hopefully no more fire engines!
Don't forget to keep checking your child's class webpage for photos and updates on all the activities and events that are going on throughout the year. We're hoping to go 'mobile' soon with a Mobile App which should keep you connected with everything you need to know. Feel free to leave a comment below.
Thank you all for your continued support. It's been a great start to the year, long may it continue!
---